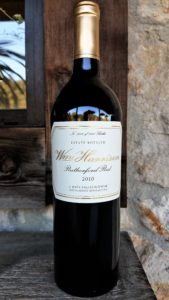 Please download and fill out the order form, then or fax it to us at (707) 963-8762.
  The form's web page is displayed in the universal .pdf format, but you'll need Acrobat Reader or similar software to view it.  If you have questions, simply give us a call at (707) 963-8310.
DISCOUNTS
Wm Harrison's total annual production rarely exceeds 2,200 cases (88 barrels), which is minuscule by today's standards.  Our Wine Club members qualify for significant discounts on any quantity of bottles purchased, including current releases and library wines.  Read more about our Heritage and Legacy Clubs, or jump right in and join now!  Due to the extremely limited quantity of our large-format bottlings, discounts do not apply.  Please review the order form for current availability.
SHIPPING WINE
Wm Harrison contracts with a third party fulfillment company to process all of our shipping. The costs associated with your delivery are simply passed along – we do not profit in any way from shipping fees.  To inquire about current rates, please call (707) 963-8310 or our Director of Sales for more information.
DISCLAIMER
You must be 21 years or older to purchase and receive shipment of wines.
DIRECT SHIPPING OF ALCOHOL
Due to changes in intrastate shipping laws (Supreme Court Decision), the states where we can lawfully send you wine are constantly changing.  For a comprehensive list of our restrictions regarding your destination, you can read Wine Institute's shipping laws portal online, or contact your state's alcohol control board.  Regardless, we reserve the right to decline a shipment, for any reason. Thank you.
All alcoholic beverages are sold in California and title passes to the buyer in California. Wm. Harrison Vineyards and Winery makes no representation to the legal rights of anyone to ship or import wine into any state outside of California. The buyer is solely responsible for shipment of alcoholic beverage products. By placing an order, the buyer authorizes Wm. Harrison Vineyards and Winery to act on the buyer's behalf to engage a common carrier to deliver the order. Alcoholic beverages may be sold and delivered only to persons who are at least 21 years old. And in placing an order, the buyer represents to Wm. Harrison Vineyards and Winery that the buyer is at least 21 years old and the person to whom delivery will be made is at least 21 years old. When the alcoholic beverages are delivered, the person receiving the delivery will be required to show identification proving that he or she is at least 21 years old.
LEGAL DISCLAIMER
Government Warning: (1) ACCORDING TO THE SURGEON GENERAL, WOMEN SHOULD NOT DRINK ALCOHOLIC BEVERAGES DURING PREGNANCY BECAUSE OF THE RISK OF BIRTH DEFECTS. (2) CONSUMPTION OF ALCOHOLIC BEVERAGES IMPAIRS YOUR ABILITY TO DRIVE A CAR OR OPERATE MACHINERY, AND MAY CAUSE HEALTH PROBLEMS.
PRODUCT WARRANTY
If at anytime you are not completely satisfied with your order, please call our  our tasting room at (707) 963-8310 and speak with one of our hospitality associates regarding your concerns.
RETURN/REFUND POLICY
Refunds (less original shipping costs) will be granted on returned wine as long as we receive it with the cork intact. The purchaser will be responsible for return freight costs, unless an order was shipped incorrectly, or the wine is defective. In those situations, or in the case of broken or damaged bottles, Wm. Harrison Vineyards and Winery will cover all shipping costs.  However, we will likely wait for the returned wine before replacing it, or at least ask for a photo of the damaged product.
INTERNATIONAL SHIPPING
Due to our tiny production volume, and lack of appropriate licensing, we do not export outside the United States at this time.